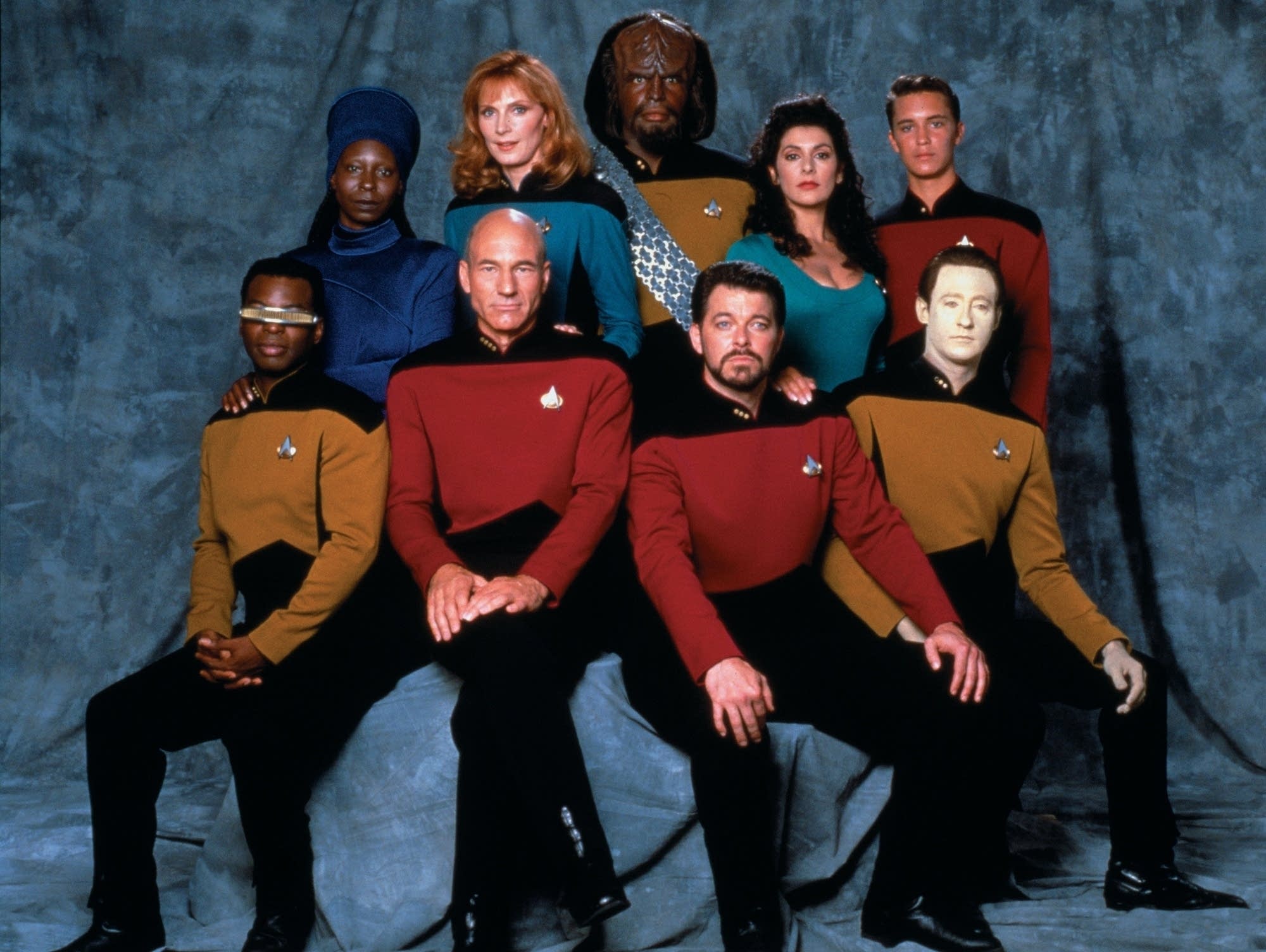 Star Trek: The Next Generation pulled off something that was probably considered impossible. It showcased that Star Trek was not a concept dependent on simply one set of characters. Still hard for me to believe that before September 28th,1987, there was only on Star Trek cast. One Star Trek TV series. And that extended into the movies as well. I personally first heard of Star Trek: The Next Generation via a preview on the family's VHS copy of
Star Trek IV: The Voyage Home.
The preview went out of its way to showcase the characters. In particular LeVar Burton as Geordi LeForge, whom the preview described as "a man with unique vision". I knew LeVar from PBS's
Reading Rainbow,
a favorite of mine at the age of 7. The idea of him playing a blind navigator on this show excited me.
TNG's premier episode "Encounter At Farpoint" was going to be airing on a Monday night. I was in first grade then. And my bedtime was about 8:30-9PM. It took some soul searching on my parents part. But I was allowed an 'exception" that night, a word my parents both used referring to a deviation from my typical bedtime. Recall actually falling asleep at the tale end of the episode. But remember being fixated (at age 7) on this world with this omnipotent entity Q pursuing the Enterprise, putting Captain Jean-Luc Picard and his crew on trial for humanities crimes, Q freezing Lieutenant Tasha Yar for vocally resisting him. And finally two jellyfish like aliens being reunited as lovers in the end. It was all the buzz the next day at school-with many having a similar experience to mine.
Closure to this experience came at a Bangor, Maine Sci Fi show two years ago. I couldn't pay anyone for autographs, much to my bewilderment. One of the sci fi stars there was Denise Crosby, who of course portrayed Tasha Yar in TNG's first season. I told her the same story that was just written in here about how I first saw the series. Crosby was genuinely touched. And gave me a big hug, thanking me for sharing the story with her. Its an experience I'll never forget.. What I did not tell her was of the many different opinions of the show from when the show first aired. Both my mother and the school phys ed teacher at the time were very faithful to classic Star Trek in 1987. My mother for her part felt it was "too much flash". And disliked Captain Picard's "by the book" attitude.
By the early 90's, TNG had swiftly become part of Sunday night family viewing in my household at 6PM. Afterwards was the show
Life Goes On.
Watching the android Data learning about humanity mimicked my (and likely many other) preteens experience learning of their own world. And the morality plays and social issues brought up by the show gave TNG two important qualities. It served to make it excellent,thrilling entertainment. But also showcase how humanity could learn from its own mistakes. And keep on striving to do better. At the time, it all felt like a morality that asked only to learn from it. No blind devotion, no murder in its name. Just entertaining futurism and morality plays on important life lessons.
This overview of Star Trek: The Next Generation might seem overly personal to some. Perhaps even egotistical. Yet as the saying goes, the personal is political. Have always lived knowing that this show has generally had a positive effect on everyone whose ever consistently watched it. While 1990's era cynicism cast a lot of doubt on TNG's scientific plausibility and some of its characters (in particular Wesley Crusher and the empathic counselor Deanna Troi), TNG represents an excellent standard for what a Star Trek series could be. It allowed Trek to endure outside the trappings of its original cast. It gave Star Trek its own future. Its own timeline. And made the Trek future (at least something close to it) something look forward to. And that's what TNG means to me as it turns 30.